What Are the Common Silicone Products?
Views:193 Author:Site Editor Publish Time: 2020-08-10 Origin:Site
With the improvement of living standards, the silicone industry has been developing rapidly. Now we often see silicone products being used in many shops and stores and sometimes we use them too. They are colorful, creative and easy to use. But what are the common silicone products? Can you name a few?
Common silicone products in daily life include silicone kitchenware, silicone water bottle, and silicone pet mat. In fact, there are also other silicone products that are useful in other fields such as silicone ice mould, silicone cake mould and silicone bowls and spoons. In fact, silica gel products are more and more widely used in our daily life thanks to its properties such as insoluble in water and any solvents, non-toxic and tasteless, stable chemical properties, high adsorption performance, and good thermal stability. It is perfect for making tableware and kitchenware. Its non-toxic, tasteless, and soft and have won the favor of many people.
You may think silicone product doesn't not sell well, well, you are wrong. It is very popular with people, especially with housewives. It can be used under -60℃ to 260℃. Because the silicone material does not contain any metal elements, it can be used in the microwave and oven. Silicone is also an environmentally friendly material that can be recycled. Compared with kitchenware made of other materials, it is softer and more colorful. With its high temperature resistance, it can protect your hands from being burned, so now many people choose to send silicone products as Chrismas gifts.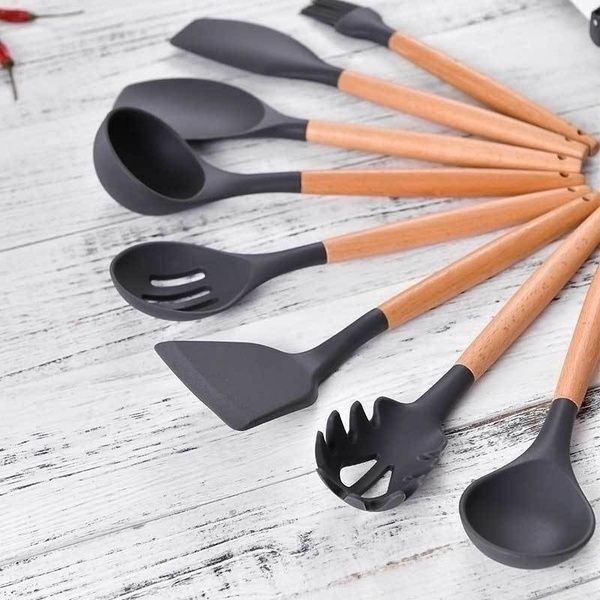 The silicone bowl is made of food-grade silicone. After hot pressing, it produces no harmful susbstances that might hurt us. The strict selection of materials ensure the multifunctionality, high quality and diversity of the product. Besides, one products can be used for many purposes, such as storing snacks, tea or fresh food, etc. It can also be put into refrigerator, microwave and oven. So with silicone bowls at home, you don't have to but extra bowls for mircowaves and blasket.
The silicone ice mould is also made of food-grade silicone. It can be made into many different shapes, heart shape, triangular shape, and spherical shape, you name it.
Through molding or encapsulation, silicone kitchenware are used to bake, cook, and stir. It stands out in various plastic products with its unique environmental friendly material, stable chemical performance, high temperature resistance, softness, antifouling, and dirt resistance.
Silicone product now has replaced many plastic products nowadays. It is not only a huge step toward environmental protection, but also toward technological breakthroughs. As a company specialized in manufacturing various silicone products, we have always put the need of our customers first and only produce quality goods. So if you are interested in buying silicone ice mould, silicone water bottle, silicone cake mould and other silicone products, you can visit our website: https://www.yk-espring.com/