How to Use Silicone Cover Safely?
Views:231 Author:Site Editor Publish Time: 2020-10-22 Origin:Site
In daily life, it is a pity to throw away all the dishes, soups, or fruits that I cannot finish eating. If it is put in the refrigerator, bacteria will multiply in the refrigerator. At this time, most people use plastic wrap to wrap the food, and then put it in the refrigerator. At present, most of the plastic wraps on the market are made on the same principle as plastics. They all use ethylene as the raw material, and their sealing properties are too poor. Disposable plastic cling film is not good to use fresh food, long-term use may also cause cancer. Therefore, silicone fresh-keeping lids are now more popular than the disposable plastic wraps. In the following, I will introduce the advantages, safety and use of silicone fresh-keeping cover in detail.
Advantages of Silicone Fresh-keeping Cover
1. Tearing resistance. Ordinary silicone products such as silicone baby placemat and silicone baby food mat generally have 70% stretchability. However, in order to meet the requirements of the silicone fresh-keeping cover to face different large and small items, when the silicone fresh-keeping cover is produced, materials that can reach more flexibility are specially added to make it reach 150% expansion performance.
2. Environmental protection and durability. Environmental protection is an issue that modern people need to attach great importance to. The living resources on the earth are limited because we need to save more resources. The silica gel fresh-keeping cover can meet the requirements of reuse, and it can be cleaned with boiling water without worrying about cleaning, and it has a long life and will not fade. Glass containers with silicone lids, collapsible food storage containers with lids and stainless steel containers with silicone lids are also suitable for the above cleaning methods.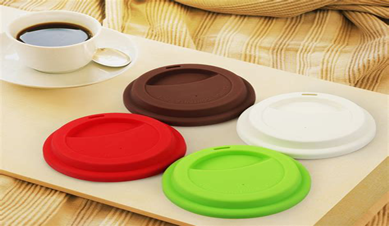 The Safety of Silicone Lids
The silicone fresh-keeping lid is made of food-grade LFGB silicone material after high temperature vulcanization. LFGB has passed the sanitary food inspection and certification. The silicone lid is made of 100% food grade organic silicon material, which is safe to use.
The silicone lid is durable, non-toxic, BPA-free, and has been approved by the FDA. The sturdy silicone cover can be completely cleaned and reused. The silicone protective lid is an inert material that can withstand a wide range of temperatures. Many silicones now use edible silicone to make cup lids, such as silicone lid for coffee mug. The transparency of real edible silicone is very high.
Application Fields of Silicone Lids
Silicone lids are suitable for freezing in refrigerators and can be used as fresh-keeping refrigeration. They can be placed in the dishwasher and disinfection cabinet, and can also be heated in the oven or microwave to make food. Silicone lids can seal pots and bowls. Silicone lids are used for food preservation. They are used with pots, bowls, pots and cups of different sizes, such as silicone food containers with silicone lids, silicone coffee cup lids and silicone ice cube trays with lids. The advantages of the product are: easy to clean, soft to the touch, bright in color, durable, environmentally friendly and healthy.
In addition, a tight lid can help seal the snacks in the can. Cookies silicone container prevents moisture, and does not affect the taste.