How To Clean Silicone Bowl?
Views:238 Author:Site Editor Publish Time: 2020-10-15 Origin:Site
With the development of life-like silicone products, more and more silicone tableware and silicone kitchen utensils have been put on the market. Nowadays, silicone products have been integrated into all aspects of our daily lives.
In fact, most of the silicone products produced with silicone can be cleaned with water, such as silicone bibs, silicone baby placemats, and baby placemats with suction. After the baby gets dirty with these supplies, he only needs to add a little detergent or a lotion solution, rinse with water and return to the fresh look just bought.
The collapsible silicone containers can hold different things: snacks, tea or fresh food, etc. Silicone tableware including silicone collapsible food container can be refrigerated, frozen, folded and carried, and used with a microwave oven.
The silicone bowl is a high-temperature molded silicone product, made of food-grade silicone material, and the color can be customized at will. The silicone bowl has a smooth surface, a soft material, and is impervious to water. It will not scratch or tear when washed in the dishwasher.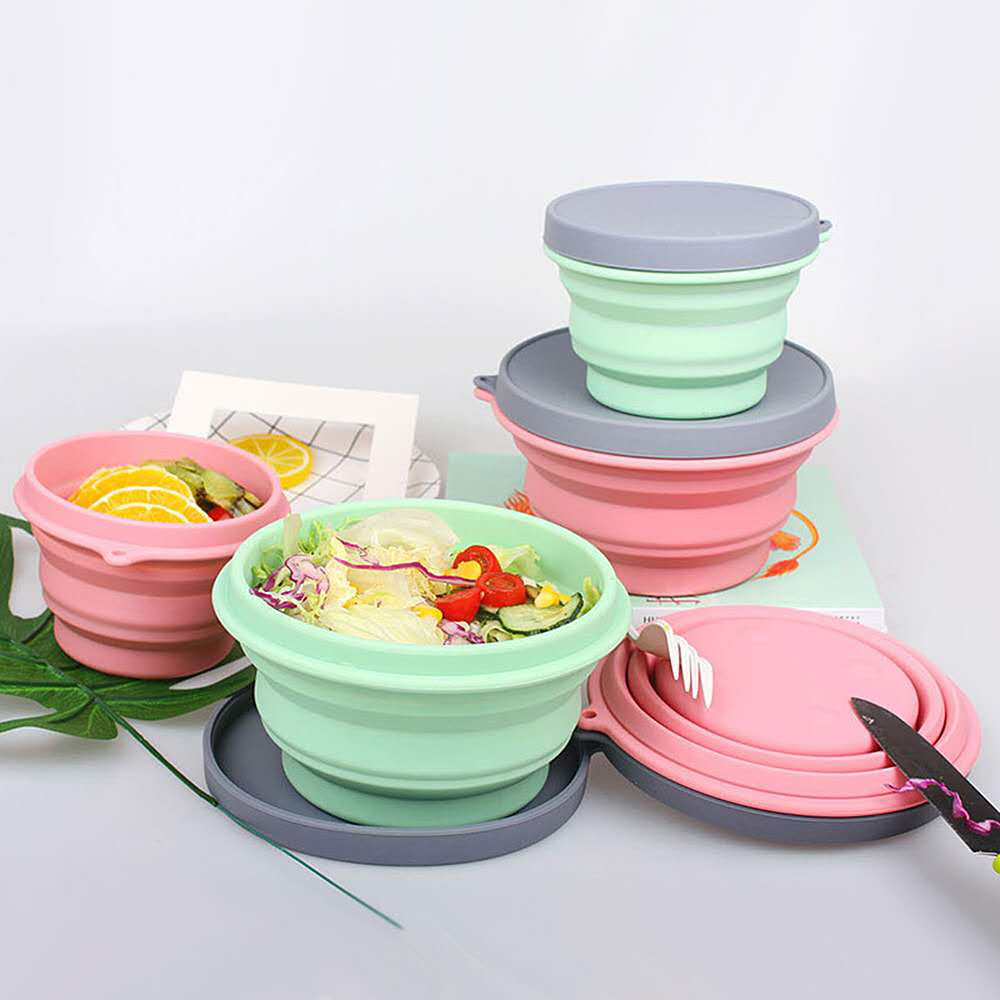 The Methods of Cleaning Silicone Bowl
Silicone tableware matches the temperature of the food well. Whether the food is cold or hot, silicone tableware can protect the temperature of the food and reduce temperature loss. The food placed in the collapsible food container with lid can maintain its original temperature after a period of time.
Like other reusable silicone containers, when the silicone bowl is used for the first time, we need to pay attention to cleaning it with clean water before using it to remove the dust and debris on the surface, and then use boiling water for disinfection. Generally, there are instructions for use in silicone kitchenware products, which can be cleaned according to the correct operation.
The silicone bowl is easy to clean. Because silica gel does not stick to oil and does not absorb oil, it is easy to clean. Sterilize it in high-temperature boiling water. After each use, soak the product in diluted detergent for 10-30 minutes. This principle is also applicable to other silicone tableware and silicone kitchenware, such as zip top silicone bags, silicone storage boxes and the best silicone freezer tray for baby food.
The silicone bowl can be cleaned in the dishwasher. The temperature resistance of silica gel products is very good, and it can normally accept the temperature test of -40℃-240℃. But silica gel is relatively soft and will deform under pressure. Moreover, general silicone products, such as silicone baby feeding mat, silicone pet feeding mat, are easily damaged when they come into contact with sharp objects.
If there are other sharp tableware in the dishwasher, they need to be sorted out to avoid damage caused by the silicone product contacting sharp objects during the dishwashing process. In short, it doesn't matter if silicone products are placed in the dishwasher. Which layer you put on depends on the placement of your tableware. As long as you pay attention to the classification, there is no need to worry.