How To Choose Best Baby Bowls
Views:150 Author:Site Editor Publish Time: 2020-12-01 Origin:Site
After birth, babies grow up at a very fast rate every day. In the process of their growth, parents should provide them with a good growth environment. This starts with simple things like choosing a proper bowl for babies.
What's the Best Baby Bowl?
The best baby bowl must be safe. It also needs to have a beautiful appearance to attract the attention of infants. When choosing baby bowl, silicone baby bowl is recommended because foldable silicone baby bowl has great advantages in material and function.
Functions of Silicone Bowl
Silicone bowl for baby has good heat storage function, it will not be damaged in the range of -40 to 200 ℃. Some stainless steel bowls also have this function, but the stainless steel baby bowl has a different structure from the airtight silicone baby bowl. The inner layer of the stainless steel bowl is made of stainless steel, and the outer layer is made of plastic. There is a vacuum layer between the two layers, which plays the role of heat insulation. In contrast, silicone itself is a kind of heat insulation material, it can store the heat of food in the silicone food container, and will not produce harmful substance in hot temperature.
Some bowls are equipped with straws that parents can use to feed their babies, such as juice, vegetable juice and other liquid foods. There are three kinds of materials used to make straws: stainless steel, plastic and silicone. The stainless steel straws are durable, but it is so hard that it can cause harm to babies. Moreover, stainless steel has a strong thermal conductivity. If you use this kind of straws to feed the baby hot food, it will burn the baby. Plastic straws cannot be used at high temperatures and are easily damaged. Silicone straws not only have weak thermal conductivity, but also thermal stability. It is the best product for babies.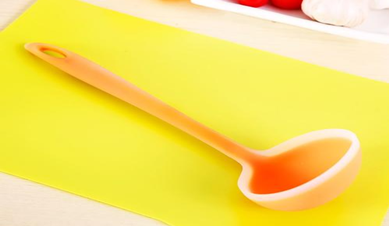 Material of Baby Bowl
Plastic
Plastic is the most commonly used material in baby tableware. Plastics are made of polymer compounds such as polyethylene or polypropylene. This chemical is harmful to the health of babies. The advantages of plastic bowl are low price, no deformation, smooth handle and light texture. But it's hard to clean, and oil and grease stick to the plastic easily.
Stainless Steel
Stainless steel bowl has better durability. It can prevent corrosion, rust and is not easy to crack. However, the thermal conductivity of stainless steel is so good that the temperature of food can be easily transferred to the hand, which not only makes the food cool quickly, but may scald the baby. In addition, stainless steel tableware may contain heavy metals, the quality of different products varies greatly, and the products with poor quality are harmful to the health of infants.
Silicone
There are many kinds of airtight food storage bags, such as oven safe silicone containers, best silicone containers, silicone coffee cup, etc. Food grade silicone is completely harmless to children's health. And the peak silicone ice tray is easy to clean, so the food is not easy to remain on the silicone tableware, to prevent the growth of bacteria. Silicone tableware is also very durable, it is waterproof and corrosion resistant. In addition, silicone tableware has good heat preservation performance.